Browning Ammunition Introduces PRO22 Rimfire
ARNOLD, Mo., (January 18, 2022) – Browning Ammunition PRO22™ is the latest addition to the expansive ammo lineup and provides target shooters and plinkers alike with a new high-accuracy option for shooting their favorite rimfire rifle.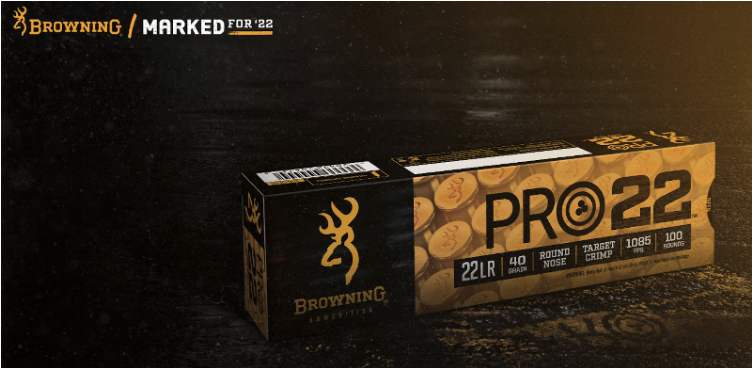 PRO22 offers improved performance through a precise target crimp for consistent bullet alignment into the barrel throat. In addition, the subsonic velocity prevents accuracy degradation caused by transonic bullet destabilization. Simply put, Browning PRO22 rimfire ammunition makes hitting your target simple. This 40-grain, lead round-nose bullet travels at 1,085 fps and is available in a 100-round pack size.

Browning Ammunition PRO22 Offering
About Browning Ammunition
The Browning Ammunition portfolio includes popular ammunition offerings in rifle, shotgun, handgun and rimfire, featuring advanced technologies for hunters and shooters. Products are designed to the highest standards of innovation, precision and technology. This relentless pursuit for engineering excellence is precisely what has earned the Buckmark™ its honorable distinction: The Best There Is
®
. For more information, visit
www.browningammo.com
or email
media@browningammo.com
.
About Gun Owners Care
Gun owners care. You care about safety. You care about preventing unauthorized access to firearms. You care about bettering your community, and helping those in need, and conserving wildlife and wild places for generations to come. It's time for gun owners to tell their stories, to show how they're making a difference. NSSF®, the trade association for the firearms industry, has established the Gun Owners Care campaign to unite gun owners and the firearms industry in this common cause. Visit
gunownerscare.org
for more information.